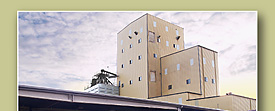 Diamond Pet Foods, founded as a livestock feed company in 1970, is now a leading manufacturer of premium foods for pets, favored by breeders, kennel owners and pet-owners the world over.

Located in Lathrop, the original facility was constructed by a mid-west builder. Modern Steel was called upon to meet the company's more recent expansion needs, adding over 25,000 sq.ft. of warehouse space featuring integrated skylight panels and exhaust vents (inset at left), as well as an easy-access pallet-storage area. Existing buildings were also upgraded with new walls.

When the metal panels on Diamond's 160-foot tower were severely damaged in an industrial accident, the company called on Modern Steel's know-how — and array of equipment — to replace them (far left).