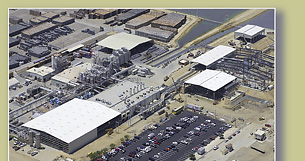 A tomato and peach processing plant featuring the newest cutting-edge technologies, this project was one of Modern Steel's most expansive... and most challenging.

The site was painstakingly engineered and graded to accommodate a first-of-its-kind, gravity-fed processing system. Much of the sprawling complex was erected up and over a series of man-made terraces, complete with hydro-transport sluices, control rooms, state-of-the-art processing stations, all of which were covered by premium, standing-seam roofs.

The project was a team effort from start to finish, resulting in the region's most revolutionary facility — and in another very satisfied customer.