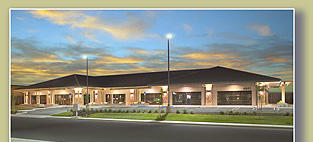 Located on opposite sides of Spyres Way in Modesto, this exceptional business park is comprised of three separate buildings totaling 38,500 sq.ft. of floor space. Atop its all-metal framing, the roof system was constructed from Varco Pruden's SLR panels. VP's FP-12 panels provide the constant-level soffit.

A succession of structural offsets add visual interest, creating hips and valleys in the roofline that also enhance appeal. All-metal trellises and canopies likewise contribute to the aesthetics, while solving a complex fascia/eave problem resulting from the architect's design.

The variety of textures, lighting effects and other architectural features further demonstrate the many possibilities Modern Steel can bring to your next building project.